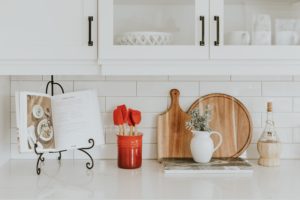 Spring Market is upon us. Whether you're planning to list your home or just want a better understanding of how to prepare your home to list it in the future, check out these tips for making sure your home shows its best.
Clear the clutter:
By far, the biggest thing you can do to get your home ready to show is to go room-by-room and remove anything that isn't essential to your everyday life. Don't be tempted to shove all of your clutter in closets or your garage, though–you'll need to stage those areas too.
Deep Clean:
Here's some items to tackle:
Make sure all grout is clean and restored to its original color
Clean all linens and drapes
Deep clean floors and baseboards
Have carpets professionally cleaned to remove all stains
Clean exterior and interior windows
Get bathrooms and kitchen sparkling clean
Stage your home:
After you've paired down clutter in each room, the next task is to stage your home. Focus on the kitchen, bathroom and main living rooms for the most impact.
Kitchen: Keep your counters clean and empty. You can keep a few tasteful decorative items, but store coffee maker, paper towel roll, toaster and any other kitchen accessories in cabinets during showings. Make sure all of your stainless appliances sparkle, too!
Living Room: Make sure all coffee tables, side tables and bookcases are cleared of clutter and staged well. If throw pillows and blankets look worn, purchase new ones to brighten up the space. Add greenery to the room by adding some fresh flowers or live plants or succulents
Bathrooms: Replace old towels with fresh white towels, and exchange an old shower curtain with a crisp white one. Don't forget about making sure your grout sparkles, too.
Storage Areas: Overlooking critical storage areas like your garage and closets is a big no-no. Stage your garage to showcase its storage potential and remember to clear your closets so that it appears like there's ample storage.
Consider hiring professional stagers: Whether your home is vacant or just needs a little facelift, consider hiring stagers to showcase your space at its best.
Curb Appeal:
Make sure your exterior is as show-ready as the interior. Clean off patio areas, add some greenery, remove any junk or clutter. If you have a deck, porch or patio, take the opportunity to stage it with furniture. Add some fresh throw pillows and a colorful rug to make everything pop.
Touch-Ups:
Freshening up paint on the outside and inside.
Replacing all light bulbs and adding some more in your home to brighten it up.
Re-grouting the tile, caulking the shower or bathtub, or replacing a faucet can give your bathroom/kitchen a fresher and updated look.
Repair anything you have been putting off-seal any cracks, fix a leaky roof and clean your gutters.